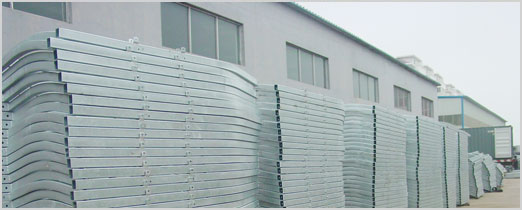 Qingdao E&H Trailer Manufacturing Co.,Ltd. is a professional manufacturer specializing in light trailers, offering a wide range of high quality trailers and trailer parts at competitive prices.

We benefit from our advanced equipments, experienced workers and diligent staff. Although economic crisis pushes, our annual output still reaches more than 30,000 sets of complete trailers. Most of our trailers and trailer parts are compliant with DOT standards, we can also offer trailers and trailer parts with EEC and ADR standards.

Our products include ATV trailers, motorcycle trailers, box trailers, cargo trailers, Jet Ski trailers, boat trailers, snowmobile trailers and tractor trailers. Meanwhile, we can supply various kinds of trailer parts, including leaf springs, trailer rims, trailer wheels, couplers, tow balls, trailer hubs, trailer lights, trailer plug, trailer spindles, cover sheets and trailer jacks.

We also offer OEM services, and we can manufacture trailers according to buyers' drawings and designs.

Adhering to our principle of "value, price and quality", we attempt to respect every customer's requirement, because it is with these people's money Qingdao E&H Trailer Manufacturing Co.,Ltd. is built.

Please feel free to contact us if you are interested in our products or company. We wish to extend our warm welcome to our customers, old and new, to enter into business relations, and cooperate to jointly build a brilliant future.